Mr. Tiger Goes Wild Named 2014 MLA Mitten Award Winner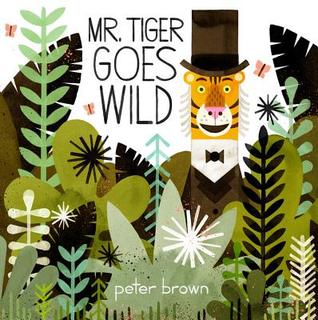 The Michigan Library Association (MLA) is pleased to announce that Mr. Tiger Goes Wild by Peter Brown, published 2013 by Little, Brown Books for Young Readers, is the winner of the 2014 MLA Mitten Award. The presentation of the award will take place at the Spring Institute 2015 Conference, March 26-27, in Ann Arbor, Michigan.
Mr. Tiger lived a perfectly proper life in a perfectly proper city and everything was perfectly fine . . . until the day he had a wonderfully wild idea! Why choose to stay in the stuffy city when there is a whole wide world of wilderness and wildness to explore? So Mr. Tiger bounds off on an adventure to discover where he really belongs, showing there's a time and place for everything. Including going wild.
Brown has written and illustrated many books for children. His books have earned numerous honors, including a Caldecott Honor, a Horn Book Award, two E.B. White Awards, a Children's Choice Award for Illustrator of the Year, a Golden Kite Award, a New York Times Best Illustrated Book Award and five New York Times bestsellers.
This year's honor books include:
Flora and the Flamingo

by Molly Idle, published 2013 by Chronical Books

Xander's Panda Party

by Linda Sue Park, published 2013 by Clarion Books

Rufus Goes to School

by Kim T. Griswell, published 2013 by Sterling Children's Books

Deep in the Sahara

by Kelly Cunnane, published 2013 by Schwart & Wade