Sidewalk Flowers Named 2016 MLA Mitten Award Winner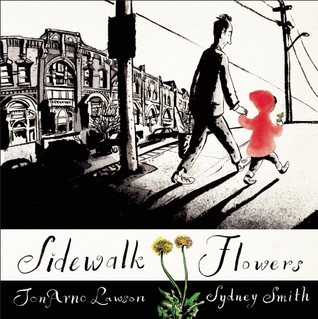 The Michigan Library Association (MLA) is pleased to announce Sidewalk Flowers by JonArno Lawson and illustrated by Sydney Smith, published 2015 by Groundwood Books, is the winner of the 2016 MLA Mitten Award.
This wordless picture book takes readers on a visual adventure, following a little girl with her distracted father who pays little attention to her as she collects wildflowers. Each flower becomes a gift, and whether the gift is noticed or ignored, both giver and recipient are transformed by their encounter.
Sidewalk Flowers has won several awards including the Governor General's Literary Award for Children's Illustrated Book 2015, Booksource Scout Award, Favorite Picture Book 2015, Elizabeth Mrazik-Cleaver Canadian Picture Book Award 2016 and was selected for the New York Times Best Illustrated Children's Book of the Year 2015.
Lawson was born in Ontario, Canada. He has written more than 10 poetry books for children and adults. Some of his works include Think Again (2010), Down in the Bottom of the Bottom of the Box (2012) and Enjoy It While It Hurts (2013). Lawson considers himself a nonsense poet, with poems that feature clever rhymes, puns and whimsical images.
The Mitten Award, established in 1999, is designed "to recognize and promote quality literature for youth in picture book format, and the ability to communicate to that audience through literature." The award selection work group is comprised of Michigan librarians who consider hundreds of children's books annually to determine a winner.
This year's honor books include:
Wolfie the Bunny by Ame Dyckman
Drum Dream Girl: How One Girl's Courage Changed Music by Margarita Engle
Toys Meet Snow by Emily Jenkins
Oskar and the Eight Blessings by Tanya Simon